Nitetronic Z1 Smart Anti-Snore Pillow
Nitetronic is the first and only smart anti-snore pillow on the market that has been clinically proven to reduce or eliminate snoring by an average of 67%, and the effect is very significant for mild to moderate snorers. It will detect snoring sounds and head position on the pillow while you sleep effectively. You will experience more restful sleep in a new dimension.
Cover: 100% Cotton
Core: Memory Foam
Pillow Size: 24″ x 16″ x 5″
Weight: 8.2 lbs
People under 18 years old.
Patients with intracranial electrode.
Patients with heart pacemaker.
Patients with obstructive Sleep Apnea Syndrome (OSAS) shall consult the doctor.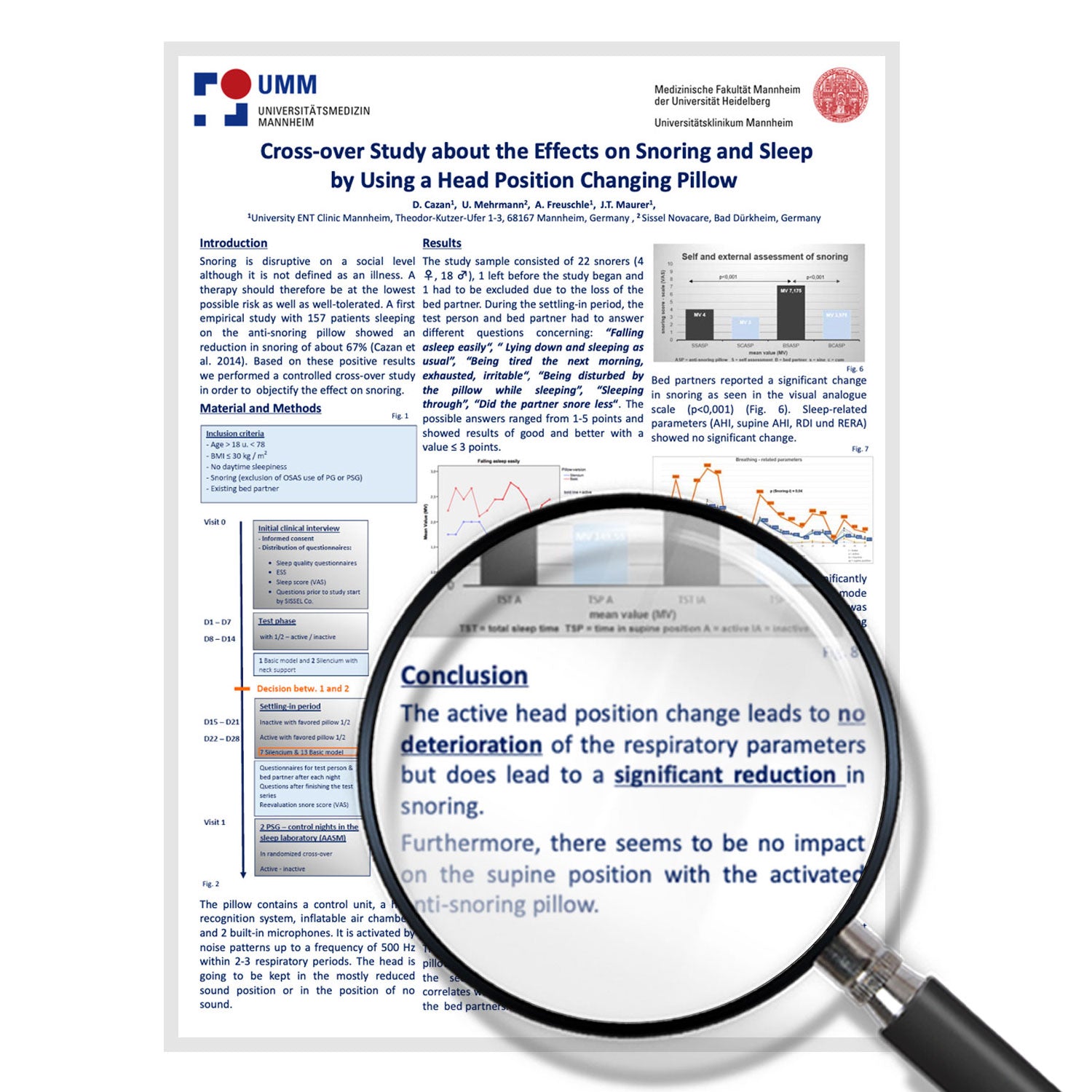 Clinically Proven
After the clinic studies in ENT Clinic Mannheim, Heidelberg University, Germany and LINDENBRUNN, and experiments, Nitetronic anti-snore smart pillow can reduce or eliminate snoring.
How it works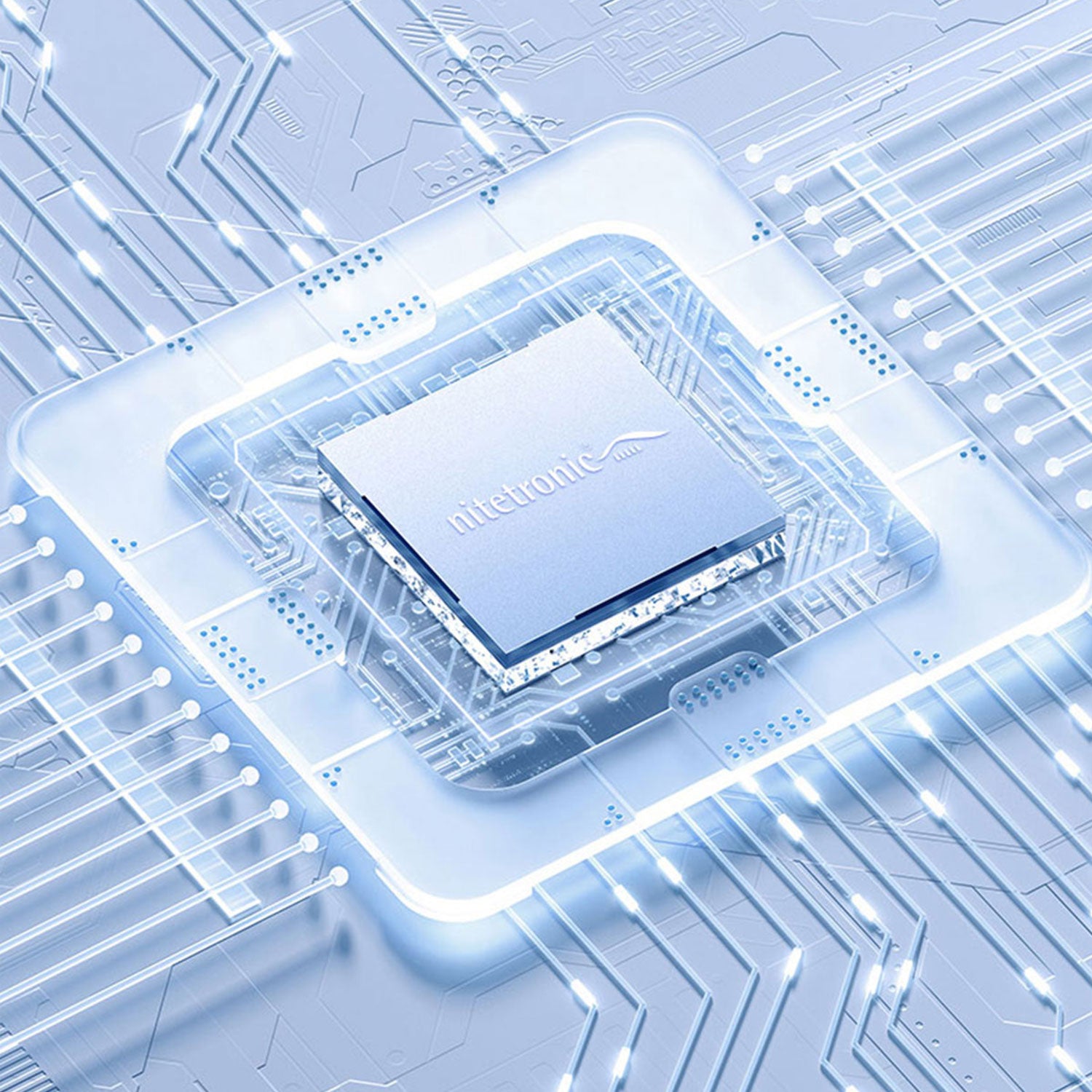 Smart Technology
Nitetronic's MEMS Sensor Anti-Snoring Pillow uses innovative technology to detect snoring sounds and adjust your head's position to reduce snoring. Get a better night's sleep without disturbing your partner.
Nitetronic App
Nitetronic APP can record sleep time, quality, and snoring time and intensity. The APP will know the sleeping position to stop snoring in the fastest way according to the data calculation, which will help to formulate the most scientific and healthy sleeping method and determine the effectiveness of the anti-snore pillow for the user.
Remote Monitoring
An APP is developed for Nitetronic smart anti snore pillow to record sleep time, quality, and snoring time and intensity. Also, once the pillow is connected to APP on the phone, you can monitor snoring data by the phone when the pillow is far away from you through lOT cloud service.
This product is rated 4.0 of 5.0 stars.
It has received 9 reviews.
Frequently Asked Questions
Check out the questions that our customers typically have. Still have questions? Contact our customer support team for further assistance.
Will it work for stomach sleepers?

The pillow stops snoring by adjusting the position of your head, opening your airway, and clearing the airway. So even for stomach sleepers, it can also smartly adjust head position to help widen your airway. For stomach sleepers, it may not make big difference in stopping snoring, but can improve the oxygen intake to guarantee you a better and safer sleep.
Does this work if one snores when sleeping on one's side?

If you snore when sleeping on your side, the effect may not be significant . But it still works because the pillow will keep pushing to adjust your sleeping position until it can find a better head position.
Is this pillow suitable for someone who have sleep apnea?

Nitetronic Z1 and Z6 have been medically proven to be effective in reducing snoring. They are both designed to alleviate sleep apnea symptoms, but they have not been proven to be a treatment for the condition. CAPA is one of the methods used to treat sleep apnea. Please let us know if you have any further questions or concerns.
What should I do if I feel the height of pillow is too low or high?

There are 2 add-ons in the pillow to adjust the height of the pillow. You can remove one if it is too high for you or add one if it is low for you.
Putting other items on the anti-snore pillow is not recommended, which will affect the effect of head position detection and air chamber.
What's the difference between Z6 and Z1?

Compared with Nitetronic Z1, Nitetronic Z6 has a lot of upgrades:

- Add buttons on the control box of Z6. You can adjust the snoring detection sensitivity and intervention intensity with the buttons. It can be used easier by older people;

- Redesign the style and upgrade the brand's tonality.

- Upgrade noise reduction technology to give you more comfortable sleep.

- Optimize the AI algorithm, and the effect of snoring detection and snoring intervention gets better. 
Can children use nitetronic pillows?

It is recommended for adults over 18 years old.